Chapter Officers
Abby Sieg
President
Abby is from Gettysburg, Pennsylvania. She is an Earth and Environmental Sciences major with a minor in ecology. She served as the Panhellenic Delegate for the spring of 2018. Abby is also a member of Susquehanna University Women's Rugby Football Club where she served as the VP of Finance for a semester and will be the VP of Backs in the spring of 2020. She also just got back from her semester abroad in the Gold Coast, Australia. "Sigma Kappa has given me so many amazing opportunities to better myself and get out of my comfort zone. It has also given me some of my best friends and an amazing support system. Joining Sigma Kappa has been the greatest decision I've made in college."
Chloe Kenney
Vice President of Standards and Values
Chloe is a junior Biomedical Science major with a pre-veterinary focus. "I love Sigma Kappa because I grew up with four brothers and always wanted a sister. Now I have more than 60!
Cady Stoever
Vice President of Membership
I love Sigma Kappa because it gave me the opportunity to become the best version of myself. I never knew I could be a leader and friend in this capacity and I'm so thankful for it!
Grace Chamberlain
Vice President of New Member Education
Mary Stebbins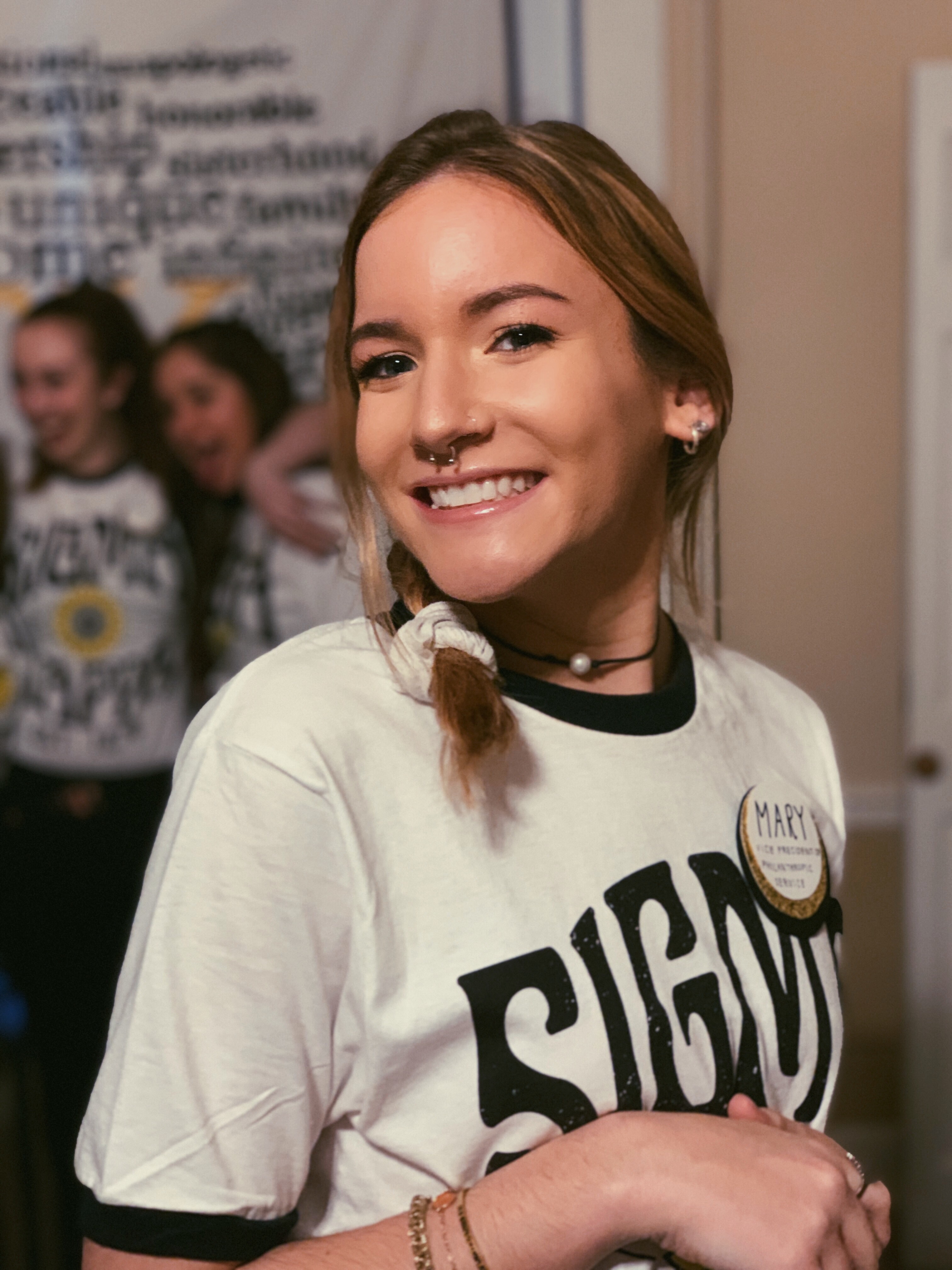 Vice President of Philanthropic Services
Hi my name is Mary Stebbins and I am from Reading, PA. I am a sophomore Neuroscience student. I love Sigma Kappa because it has given me a group of strong and empowering women. This group of women positively motivate me to be the best version of me and I will be forever thankful for that.
Amanda Fioriello
Vice President of Communications and Operations
Amanda is from East Hampton, New York. She is a Communications: Digital Broadcasting Major and a Film Studies Minor. She is a cheerleader and a member of the Susquehanna University Dance Team. Her favorite pass-time is to play with her cat Cappi in her dorm on campus. "I love Sigma Kappa because our four values: personal growth, service, loyalty and friendship hit home for her and every sister embodies them."
Michaela Stuart
Vice President of Finance
Michaela loves Sigma Kappa because it empowers and motivates her to be the best version of herself. Sigma kappa has given her a home-away-from-home and I know her sisters are always there for her through the highs and the lows. She is a part of something bigger than herself and is honored to be a part of the Greek life community.
Audrey Reynolds
Vice President of Programming
Alexa Berti
Vice President Academic Excellence
Alexa is a Biomedical Science Major and Health Care Studies Minor from Long Island, New York. "I love Sigma Kappa because it gave me a home away from home and a support system that i can rely on even after i graduate."
Tayah Moore
Vice President of Alumnae Relations
Hi! my name is Tayah Moore and I'm an Early Childhood Education major from Pottsville, PA. I'm involved in cheerleading and Student Government (President of the Class of 2021) here at Susquehanna University! I love Sigma Kappa because it's brought me the best friends and has helped me grow my self confidence
Amanda Gerecht
Panhellenic Delegate
Amanda loves Sigma Kappa because she knows that on her absolute worst days as well as on my absolute best days she has a sisterhood of women who are there for her. "They lift me up and give me the confidence and reassurance I need to keep going when, sometimes, I really do not think I can. My sisters also celebrate in my accomplishments with me and get excited when a sister succeeds. I am also so proud to be apart of a sisterhood that puts so much heart and devotion into philanthropy and service."
Amanda Gerecht: profile picture